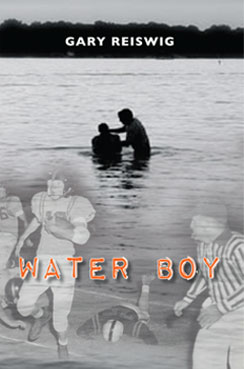 Danny and Sonny, childhood friends, grow up in Cimmaron, Oklahoma, a town obsessed with high school football and Christian faith. The town believes Danny, the quarterback, can lead the team to a state championship. Sonny, the water boy, doesn't like the violence of football but finds ways to help the team with his own intelligence. Which is more important to the town, a football championship or "treasure in heaven?" Can they have both?
Quirky characters inhabit Cimmaron. Dovie Lasher, talented on the basketball court and so beautiful to look at she lives above the moral rules; Cannonball Conner, assistant football coach, a dwarf; Emma, Sonny's mother, who lives for the rapture; Brice Miller, a former football hero who hangs around town living off past glory; Joe Don Jones, an evangelist who rescues Danny after he blames himself for the death of a teammate. They all inhabit Cimmaron where the values of both football and Christianity lead to a surprising, life-changing conclusion for the Water Boy.
Comments about WATER BOY published in hardback by Simon & Schuster, recently published in paperback.
"I'm very impressed by Mr. Reiswig's novel, WATER BOY. Set in the not so innocent or distant 1950s, it's a fascinating portrait of a strange pair of American male archetypes, the Quarterback and the Water Boy, and the powerful erotic and sometimes violent bonds that tie them to one another." Russell Banks, author of Lost Memory of Skin, The Sweet Hereafter, and other novels.
"WATER BOY is a dark, intelligent, and provocative novel about the world of fundamentalist religion and the seemingly sunny universe of high school football. Gary Reiswig is a powerful writer." Susan Isaacs, author of As Husbands Go, Compromising Positions, and other novels.
"evocative story of time & place," Booklist.
"will startle even the most alert readers," Publisher's Weekly.
"A rich & moving book," The Boston Globe.
"rather gorgeous," The New Yorker.
"Cleanly carved images," The Philadelphia Inquirer.
"haunting," Pittsburgh Post Gazette.
"gripping & thought provoking," The Sunday Oklahoman.
"Accomplished, powerful, loving melancholy portrait of life in the Oklahoma Panhandle," Houston Chronicle.